Custard Rules

The usual rule for custards is, eight eggs to a quart of milk; but a very good custard can be made of six, or even less, especially with the addition of a level tablespoon of sifted flour, thoroughly blended in the sugar first, before adding the other ingredients.

Custards may be baked, boiled or steamed, either in cups or one large dish.

It improves custard to first boil the milk and then cool it before being used; also a little salt adds to the flavor.

A very small lump of butter may also be added to the custard, if one wants something especially rich.

When desired extremely rich and good, cream should be substituted for the milk, and double the quantity of eggs used to those mentioned, omitting the whites.

When making boiled custard, set the dish containing the custard into another larger dish, partly filled with boiling water, placed on the stove. Let the cream or milk come almost to a boil before adding the eggs or thickening, then stir it briskly one way every moment until smooth and well cooked.

Custard must not boil or it will curdle.

Eggs should always be thoroughly well beaten separately, the yolks first, then the sugar added, beat again, then add the beaten whites with the flavoring, then the cooled scalded milk. The lighter the eggs are beaten, the thicker and richer the custard.

Eggs should always be broken into a cup, the whites and yolks separated, and they should always be strained. Breaking the eggs thus, the bad ones may be easily rejected without spoiling the others and so cause no waste.

A meringue, or frosting for the top, requires about a tablespoon of fine sugar to the beaten white of one egg.

Meringue should be placed on the top after the custard or pudding is baked, smoothed over with a broad-bladed knife dipped in cold water, and replaced in the oven to brown slightly.





Email this info to Friend

Browse Pages


Breads, Buns & Rolls

Muffins, Gems, etc.

Biscuits & Related

Griddle Cakes & Waffles

Cakes & Related

Cake Icings & Fillings

Cookies & Related

Other Desserts

Site Map

Complete with a tin storage, this great set of 11 round, stainless-steel cookie cutters comes in handy for all seasons. The cutters range in size from 3/4 inch high to 3-5/8 inches high, and they have rolled edges on top to protect fingers during the cutting process.
Dishwasher-safe.

Find More Cookie Cutters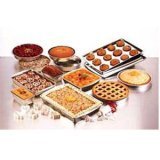 Helpful Tip

If you want to bake a perfect custard, make sure that the oven temperature is moderate and the dish is well buttered.