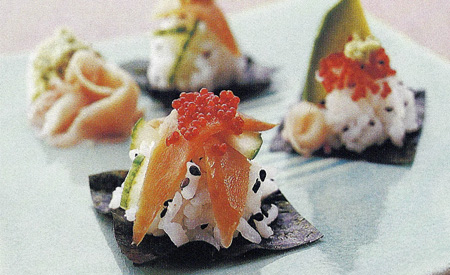 Assemble this simplified sushi appetizers just before serving so the base doesn't become soggy.

Ingredients:

1 cup No.1 grade sushi or short grain rice
1¼ cups water
1 teaspoon salt
2 ttablespoons rice vinegar
1 tablespoon granulated sugar
5 sheets nori
Ingredients for Toppings:
4 oz thinly sliced smoked salmon
Pickled ginger
Wasabi paste
Soy sauce


Directions:

Place rice in a large heavy-bottomed saucepan and add water, vinegar, sugar and salt. Cover and place over medium-high heat until water comes to a boil. Reduce heat to low and boil without lifting the lid for 15 minutes. Remove from heat and let stand for 10 minutes. Remove lid and transfer rice to a tray or platter. Spread out and let cool to room temperature. Do not refrigerate. Rice can be made up to 3 hours ahead and then covered with a clean, damp towel and stored at room temperature until needed.

Using kitchen scissors, cut each square of nori into 16 squares and arrange on serving plate. Drop a spoonful of rice on top of each square and top with thinly sliced fish or see topping ideas below for alternatives.

Serve immediately with pickled ginger, wasabi paste and soy sauce for dipping on the side.


Makes 80 canapes.

Nutrition per canape (using smoked salmon): 12 cal, 0.1 g fat, 2 g carb, 0.5 g protein.


TIP: Other great sushi stack toppings include thinly sliced peeled, seeded English cucumber, finely shredded carrots, thinly sliced avocado, fish roe, cooked crab or lobster.