Red Pepper Bruschetta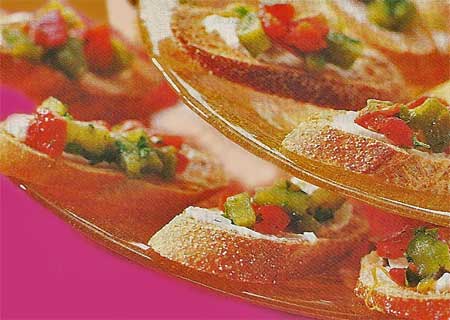 Ingredients:

2 large sweet peppers, preferably 1 red and 1 green
2 tablespoons finely chopped parsley
2 teaspoon balsamic vinegar or 1 teaspoon red wine vinegar
Salt to taste
1/3 cup soft goat cheese, about 2 oz
3 tablespoons plain low-fat yogurt
1 teaspoon finely grated lemon peel
1 garlic clove, crushed
Black pepper to taste
1 loaf French bread (16 inches)



Directions:



Preheat broiler.

Place whole peppers on a baking sheet set 3 inches from broiler. Broil, turning occasionally, until blackened.

Remove from oven, cover with a tea towel or put in a brown bag to steam until cool.

Peel peppers, discarding seeds; dice. Toss with parsley, vinegar and salt and set aside in a bowl.
In a small bowl, mix goat cheese with yogurt, lemon peel, garlic and a generous grinding of black pepper.

Thinly slice bread into 1/4-inch rounds. Toast bread slices on a cookie sheet in a preheated 400ºF (200ºC) oven.
Spread goat cheese mixture over bread. Sprinkle with sweet pepper mixture and serve.


Makes 20 bruschettas.



Per bruschetta:

33 calories, 1.3 g protein, 1 g fat, 4.7 g carbohydrates, 0.4 g dietary fibre, 12 mg calcium, 0.2 mg iron, 5 mcg folacin.

Good source of vitamin C.




CLICK HERE

for print version of this page.