This book is simply an easy to read and follow guidebook with over hundred, easy to prepare, healthy, and tasty recipes with full nutritional information, and step by step instructions.
More...

Baked Omelet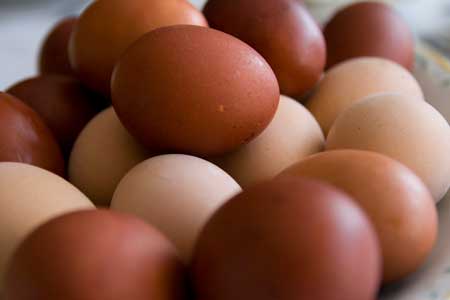 Ingredients:
2 tablespoons melted butter, divided
4 eggs
8 tablespoons cold milk
1/2 teaspoon cornstarch
2 tablespoons water
Salt and ground black pepper to taste
Directions:
Preheat oven to 350ºF (180ºC).
Beat eggs well, add milk and beat again.
Add 1 tablespoon melted butter, seasonings, and cornstarch mixed with water.
Turn into a buttered fireproof dish and bake in moderate oven fifteen minutes.

Serve hot.


Makes 3 to 4 servings.


Email this info to Friend

Browse Pages


Breads & Related

Cakes & Related

Cookies

Amazing Pies

Pastries

Puddings

Eggs

Fruit

Rice

Vegetarian

Tasty Dips

Soups & Related

Cooking With Kids

Herbs & Spices

Special Occasion

Miscellaneous

Recommended Products


Helpful Tips

A common test for freshness of egg is to place it between the eye and a strong light. If fresh, the white will appear translucent, and the outline of the yolk can be distinctly traced. Stale eggs become cloudy, and when decidedly stale, a distinct, dark, cloud like appearance may be discerned opposite some portion of the shell.

Another test is to shake the egg gently at the ear; if a gurgle or thud is heard, the egg is bad. Again, eggs may be tested by dropping into a vessel containing a solution of salt and water, in the proportion of a tablespoonful to a quart. Newly laid eggs will sink; if more than six days old, they will float in the liquid; if bad, they will be so light as to ride on the surface of the brine.