Bread Machine Breads

Ingredients:
1 cup warm water (about 115° F)
1/3 cup warm milk (about 115° F)
3½ teaspoons bread machine yeast
2 tablespoons honey
1/3 cup olive oil
2 cups bread flour
2 cups whole wheat flour
2 teaspoons salt
Directions:
Place the water, milk, honey and yeast in the pan of the bread machine. Let the yeast dissolve and foam for 10 minutes.

Add the olive oil, flour and salt to the yeast.


Select: 2 lb Loaf Size, Dark Crust, Basic or Whole Wheat Bread setting, and press Start.
NOTE:
Bread should be brown on top, not just golden. Let the loaf cool completely before cutting!
TIP:
If you like soft crust, smear the warm bread crust with butter to keep it soft, but if you like really crusty crust, then don't do that.
Basic White Bread (2 lb)




Ingredients:



1 cup water (about 115° F)
1/2 cup milk (about 115° F)
3 tablespoons honey
1½ teaspoons salt
2 tablespoons olive oil
4¼ cups bread flour
2 teaspoons active dry yeast



Directions:



Place the water, milk, honey, salt and

olive oil to the bread machine pan. Add bread flour and yeast according to manufacturer's instructions. Select Basic setting.

When baking cycle ends, remove bread and place on a rack. Let cool to room temperature before slicing.


Email this info to Friend

Browse Pages


Breads, Buns & Rolls

Muffins, Gems, etc.

Biscuits & Related

Griddle Cakes & Waffles

Cakes & Related

Cake Icings & Fillings

Cookies & Related

Other Desserts

Site Map

Complete with a tin storage, this great set of 11 round, stainless-steel cookie cutters comes in handy for all seasons. The cutters range in size from 3/4 inch high to 3-5/8 inches high, and they have rolled edges on top to protect fingers during the cutting process.
Dishwasher-safe.

Find More Cookie Cutters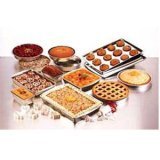 Helpful Tip