Biscotti for Coffee Lovers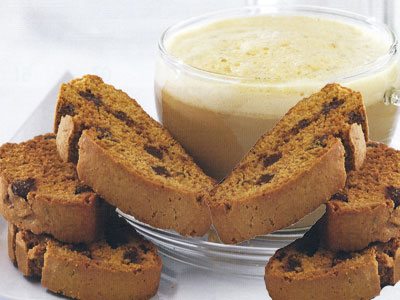 Ingredients:



2½ cups all-purpose flour
2 tablespoons corn starch
1 teaspoon cinnamon
1/3 cup instant coffee
2 tablespoons milk
1/2 cup butter, softened
1 cup sugar
3 large eggs
1 cup semi-sweet chocolate chips


Preparation:

In a large bowl, sift together all-purpose flour, ground cinnamon and baking powder.
In another bowl, mix together instant coffee with 2 tablespoons warm milk until dissolved. Whisk in butter, sugar and eggs until smooth.
Stir moist mixture into dry mixture until just combined.
Add chocolate chips to the biscotti mixture and divide dough in half.
Preheat oven to 350ºF (180º C).
Line the large baking sheet with parchment paper and shape one half of dough into a log 12-inches long and about 3-inches wide. Repeat with remaining half of the dough, placing logs about 3-inches apart.
Bake in preheated oven for about 20 to 25 minutes until just firm. Let it cool on pan for about 10 minutes.
Transfer logs to cutting board and cut into 1/2-inch thick slices. Place slices upright on baking sheet, spaced apart and bake for another 15 minutes or until sides are no longer springy to the touch.

Let cool on rack completely before storing in air-tight containers. Enjoy with your favorite coffee.



Email this info to Friend

Browse Pages


Breads, Buns & Rolls

Muffins, Gems, etc.

Biscuits & Related

Griddle Cakes & Waffles

Cakes & Related

Cake Icings & Fillings

Cookies & Related

Other Desserts

Site Map


Great Cookbooks
Learn to Eat Healthy is not a traditional diet book with strict rules and limitations. Here you will find great tips and ideas for healthy cooking and good guidelines to control your health, your eating habits and your weight without strict dieting rules. You'll discover that preparing your own food is fun and easy and your healthy diet is delicious. In fact, the main reason why most of those quick fix diets will fail you from the start is because they ignore the way normal people want to live. This book is simply an easy to read and follow guidebook with over hundred, easy to prepare, healthy, and tasty recipes with full nutritional information, and step by step instructions.
More...