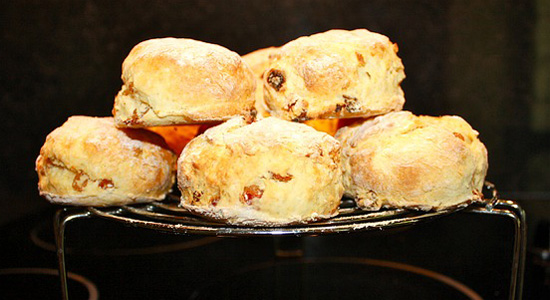 Ingredients:

1 cup all-purpose flour
1/3 cup raisins
1/2 teaspoon finely shredded orange peel
2 tablespoons sugar
1½ teaspoons baking powder
1/8 teaspoon salt
1/4 cup (1/2 stick) cold butter, cut up
1 large egg, beaten
1/3 cup sour cream or plain yogurt


Topping (optional):
2 teaspoons granulated sugar
1/2 teaspoon ground cinnamon


Directions:

Preheat oven to 425º F (220º C)
In a medium mixing bowl, sift together flour, baking powder and salt. Stir in sugar.
Using a pastry blender or fork, cut in butter until mixture resembles coarse crumbs. Make a well in the center.
In a small bowl, stir together egg and sour cream or yogurt and add at once to flour mixture. Using a fork, stir until just moistened.
Turn dough onto lightly floured surface and quickly knead by gently folding and pressing dough (about 8 to 10 strokes).
Pat and lightly roll into 6-inch circle. Using a round cutter, cut dough into scones. You can also make vedges by using a sharp knife, and cut dough into 6 or 8 vedges.
Combine sugar and cinnamon and sprinkle over scones before baking (optional).
Place scones 1 inch apart on baking sheet and bake for about 10 to 12 minutes or until done.
Remove from baking sheet and cool 5 minutes on wire rack before serving.