Another preliminary part of the cooking with kids will be teaching them to measure and follow a recipe.


Measures
The measures usually used in kitchen work with children are teaspoon, tablespoon, ounce measure, and cup, of which a table is developed as follows:


| | | | |
| --- | --- | --- | --- |
| 3 | teaspoons (tsp.) | 1 tablespoon (tbsp.) | 15 milliliters |
| 1 | ounce (oz) | 2 tablespoons | 30 milliliters |
| 16 | tablespoons | 1 cup | 250 mililiters |

In connection with this table the following points should be brought out to kids:


1. That all measurements are made level.
2. That in measuring liquids, the measure should be set on a level surface.
3. That to halve the contents of a spoon, the division should be made lengthwise.
4. That to quarter the contents of a spoon, the half should be divided crosswise.
5. That in measuring flour, it should not be shaken down to level it.
6. That in using one measure for both dry and liquid ingredients, the dry should be measured first.
7. That in measuring a cup of dry ingredients, the cup should be filled by using a spoon or scoop.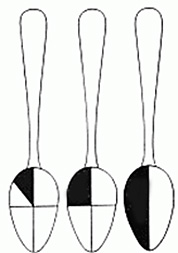 NOTE:
Sometimes, with older kids, and for more complicated recipes, kitchen scale is used. We recommend digital kitchen scale with removable bowl or the scale that will
easily accommodate a variety of plates, bowls, and containers on top.