OTHER TRADITIONAL BREADS

Rhode Island Brown Bread

French Bread

Twist Bread

German Bread


Indian Loaf Cake


Johnnie Cake

Cracknels

Southern Corn Meal Pone or Corn Dodgers

More Recipes for Breads, Buns, Waffles, Rolls and Related




Beat together one pint of milk, four tablespoons of melted butter, or half butter and half lard, half a cupful of yeast, one teaspoon of salt and two eggs. Stir into this two quarts of flour. When this dough is risen, make into two large rolls and bake as any bread. Cut across the top diagonal gashes just before putting into the oven.

Let the bread be made as directed for wheat bread, then take three pieces as large as a pint bowl each; strew a little flour over the paste-board or table, roll each piece under your hands to twelve inches length, making it smaller in circumference at the ends than in the middle; having rolled the three in this way, take a baking-tin, lay one part on it, joint one end of each of the other two to it, and braid them together the length of the rolls and join the ends by pressing them together; dip a brush in milk and pass it over the top of the loaf; after ten minutes or so, set it in a quick oven and bake for nearly an hour.

One pint of milk well boiled, one teacupful of sugar, two tablespoons of nice lard or butter, two-thirds of a teacup of baker's yeast. Make a rising with the milk and yeast; when light, mix in the sugar and shortening, with flour enough to make as soft a dough as can be handled. Flour the paste-board well, roll out about one-half inch thick; put this quantity into two large pans; make about a dozen indentures with the finger on the top; put a small piece of butter in each, and sift over the whole one tablespoon of sugar mixed with one teaspoon of cinnamon. Let this stand for a second rising; when perfectly light, bake in a quick oven fifteen or twenty minutes.

Sift one quart of Indian meal into a pan; make a hole in the middle and pour in a pint of warm water, adding one teaspoon of salt; with a spoon mix the meal and water gradually into a soft dough; stir it very briskly for a quarter of an hour or more, till it becomes light and spongy; then spread the dough smoothly and evenly on a straight, flat board (a piece of the head of a flour-barrel will serve for this purpose); place the board nearly upright before an open fire and put an iron against the back to support it; bake it well; when done, cut it in squares; send it hot to table, split and buttered.
Old Plantation Style.

Mix with cold water into a soft dough one quart of southern corn meal, sifted, a teaspoon of salt, a tablespoon of butter or lard melted. Mold into oval cakes with the hands and bake in a very hot oven, in well-greased pans. To be eaten hot. The crust should be brown.

Two cups of rich milk, four tablespoons of butter and a gill of yeast, a teaspoon of salt; mix warm, add flour enough to make a light dough. When light, roll thin and cut in long pieces three inches wide, prick well with a fork and bake in a slow oven. They are to be mixed rather hard and rolled very thin, like soda crackers.



Email this info to Friend

Browse Pages


Breads, Buns & Rolls

Muffins, Gems, etc.

Biscuits & Related

Griddle Cakes & Waffles

Cakes & Related

Cake Icings & Fillings

Cookies & Related

Other Desserts

Site Map

Complete with a tin storage, this great set of 11 round, stainless-steel cookie cutters comes in handy for all seasons. The cutters range in size from 3/4 inch high to 3-5/8 inches high, and they have rolled edges on top to protect fingers during the cutting process.
Dishwasher-safe.

Find More Cookie Cutters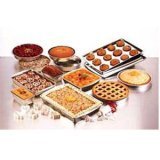 Helpful Tip

Salt is always used in bread-making, not only on account of its flavor, which destroys the insipid raw state of the flour, but because it makes the dough rise better.