Italian Fruit Recipes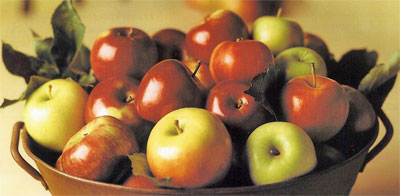 Easy Berry Sauce

Baked Stuffed Apples

Peaches with Wine

Apple Custard
In warm weather and in warm climates, when foods are not needed for a heat-producing purpose, the diet may well consist largely of fruits and succulent vegetables, eaten in combination with pasta, bread and grains.

In case of liver and kidney affections, rheumatism, and gout, the use of fruit is considered very beneficial by many scientific authorities.

It is a disputed question whether fruits should begin or end the meal; but it is generally conceded by those who have given the matter attention, that fruit eaten at the beginning of a meal is itself the more readily digested, and aids in the digestion of other foods, since fruits, like soups, have the property of stimulating the flow of the digestive juices. Something, however, must depend upon the character of the fruit; oranges, melons, and like juicy fruits, are especially useful as appetizers to begin the meal, while bananas and similar fruits agree better if taken with other food, so as to secure thorough mixture with saliva.



Email this info to Friend

Browse Pages


Breads, Buns & Rolls

Muffins, Gems, etc.

Biscuits & Related

Griddle Cakes & Waffles

Cakes & Related

Cake Icings & Fillings

Cookies & Related

Other Desserts

Site Map


Great Cookbooks
Learn to Eat Healthy is not a traditional diet book with strict rules and limitations. Here you will find great tips and ideas for healthy cooking and good guidelines to control your health, your eating habits and your weight without strict dieting rules. You'll discover that preparing your own food is fun and easy and your healthy diet is delicious. In fact, the main reason why most of those quick fix diets will fail you from the start is because they ignore the way normal people want to live. This book is simply an easy to read and follow guidebook with over hundred, easy to prepare, healthy, and tasty recipes with full nutritional information, and step by step instructions.
More...